What People Say About Jan Sanner
Buyers Sellers Industry Professionals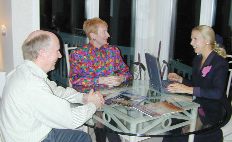 ---
BUYERS
"We are very excited about the house. Lynn and I think you are great!"
-Paul Greve
"We do appreciate all you did for us during the finding and purchase of our new home. We've already decided that when it's time to sell, we'll give you a call."
-Ken & Norma Daniel
"You made our arrival a very warm heart-felt experience. We appreciate your generosity and hospitality."
-The Opperman Family
"I just wanted you to know that Jan is a real professional in her field. As with any relocation, things are hectic...but Jan made my home search an enjoyable experience. Her dedication and assistance to me was invaluable."
-Ken Caldwell
"Thank you very much for your guidance, time and expertise. I sincerely appreciated it. Everything went very well for this first time buyer."
-Ken Koldewey
"We've been thankful for you and your friendship since we first met you...You've made this move easy for us!"
-Ron & Marge Radeke
"We are extremely pleased with the house you helped us find. I wanted to remind you that there are some people who appreciate a genuine professional working for them."
-Gary Wallen
"Dear Jan, Thank you so much for all you have done! We are enjoying our new home so much!"
-Dr. Marc & Melissa Apple
"Thanks for all the help you gave Tim and me. You really helped us feel comfortable with our move to Fort Wayne. The decisions we made would have been much more difficult without your assistance."
-Lisa Feeney
---
SELLERS
"Jan Sanner sold our house at her recommended price and in the time frame we hoped for. Excellent service!"
-Gerald & Jan Daly
"Jan Sanner is highly recommended by us as your Realtor. We were very impressed with her business knowledge, advertisement of our home and great service on selling our home. Jan is very professional and is an absolute pleasure to work with. She listens carefully and knows how to deliver what her clients want."
-Mitch & Diane Rader
"We would like to express our appreciation for the more than professional way you handled the sale of our home. We can't believe that it sold in less than two weeks at full price! We previously had it on the market two months with no offer...We will recommend you to our friends..."
-Norm & Elaine Henry
"I must say that you have been an extraordinary Realtor. Thank you again."
-Wayne Chaffer
---
INDUSTRY PROFESSIONALS
"Jan Sanner truly stands out from others in her field. She puts her clients at ease with her knowledge and professionalism. I personally trust Jan's expertise so much that I listed my own home and bought my new home through her!"
-Tami Coates, Manager, People Mortgage Co.
"You give outstanding service to your clients and you have a wonderful reputation in the marketplace."
-James W. McCrea, Vice President, Mortgage Loans, National City Bank
"Congratulations on your #2 ranking in the State. In the few transactions that we have worked on together I can see why you have become so successful."
-Jeffrey White, President, White Financial
"It is gratifying that you have been recognized for your achievements and sales success. Having worked closely with you, I know you deserve every award..."
-John E. Fitzgerald, Vice President, Home Loan Bank
"It is always a pleasure to work with Realtors of your stature and quality."
-Floyd Henny, Builders
"Congratulations to Jan Sanner, Real Estate Executive of the Month. I have known her for over 30 years and respect the good job she does for her clients and community."
-Joe Young, Insurance Agency Owner